Lessons
---
Valkyr Stables offers horseback riding lessons in the hunter/jumper discipline. Our main objective being to ensure that all our clients are able to enjoy riding, while giving the riders a strong equitation base and a working knowledge of their animals. We offer lessons to all ages and levels, whether you wish to ride for pleasure or as a competitive athlete, young or old (a minimum of 6 years old is recommended). We are pleased to offer a variety of horses and ponies appropriately matched to all levels.
With years of experience as both competitive riders and coaches our trainers are here to support you through the challenges that horses and riders encounter and help you achieve success in a safe and fun environment. As the years progress we have developed well trained horses as well as competent riders. We are very proud of all the achievements of the horses and riders who we consider as part of our family.
Note: Lessons are sold individually or discounted in a prepaid package of 10 lessons, which are valid for a period of three month.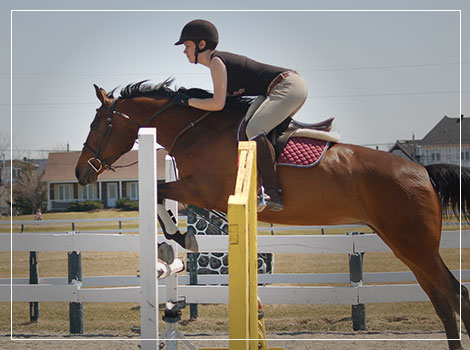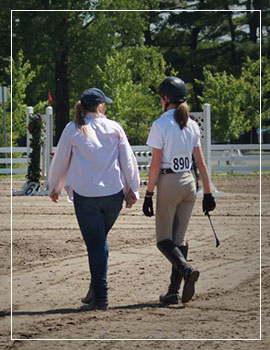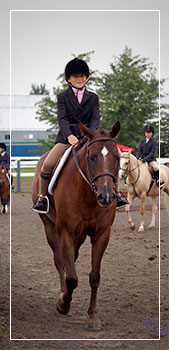 Melissa Schneider
Melissa Schneider is perfectly bilingual and ready to help you and your horse build confidence and gain the knowledge to obtain your goals, whether they are for pleasure or the competition ring.

Having successfully competed personally in all levels of Hunters, Jumpers, Equitations and Medals classes, with many different horses, Melissa transmits her experience and know-how to the students she teaches, offering them the knowledge and skills that they need in order to succeed at any level. She has an excellent form of communication with children, as well as with adults, and always has high regard for the safety of those in her charge as they enjoy the pleasure of the sport.

Melissa currently sits as President of the AERRSM-CS, and has been highly involved in the undertakings of the region in the last seven years. She has accepted the responsibility as Team Captain for the AERRSM-CS at the Inter-Regional Finals for the last four years running.

In the last seven years, amongst many other grand achievements by both students and horses of Valkyr Stables, 5 students have been awarded the year-end Monique Langlois Team Spirit trophy, and 3 horses from our stables been awarded Horse of the Year by the AERRSM-CS, a testament to the leadership and direction that Melissa provides.