About Us
---
About
Valkyr Stables
Valkyr Stables, a family run business, officially opened its doors in 2007. Owned by three sisters, Melissa, Cheryl and Christie, who have been involved in horses from a very young age, having been influenced by their mother's passion for horses and the sport. Over 25 years ago their mother bought her first horse, from the same facility they are now operating from, the family has owned horses ever since.
Having spent their entire youths cavorting around stables and working on show grounds, the sisters have been immersed in the equine field and have gained exceptional experience and knowledge. They have worked and learned much from many reputable professionals and know every facet involving horses, riding and competition. This knowledge is applied in the management of the stables and the care and respect given to the animals.
Having always been encouraged and supported by their amazing parents, the sisters recognize the importance of these aspects in their business approach. They have therefore devoted themselves to providing a facility where students, parents, and grandparents are encouraged to come enjoy learning the hunter/jumper discipline through a strong equitation base, in a safe and friendly family environment.
With the help of the entire family our facility has been undergoing a complete remodeling and has already undergone several extensions. We are very pleased with the results to date, and are committed in our efforts to continue to improve our facilities in the coming years.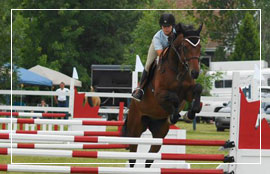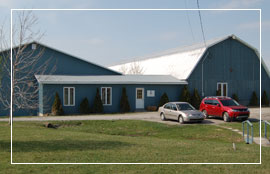 We invite you into the comfort of our home,
Sincerely the entire Valkyr Family.

Fun Fact Note
on the orign of the Name Valkyr Stables
---
In the search for the perfect name, the mother of a student came forward with the suggestion of Valkyr. In our research we then found that Valkyries are usually depicted as Goddesses, sometimes noted as the three daughters of Royalty, whom were lovers of heroes and other mortals. Valkyries would sweep down onto battlefields on their winged horses and selected the slain warriors that they would bring back to Valhalla (heaven or paradise in the Norse mythology). They are considered supernatural figures associated with fate.
We took one look at the description and thought "Royalty, Heroes, Horses, and Paradise, who would not like the idea?!"
Our special thanks to Joanne for the perfect suggestion.